Our Girls
Some of our alpacas we bought in from different breeders, others have been born here at Rushmere. We describe each of them so that you can learn all about them. Alpacas are very individual and very different characters which we try to convey.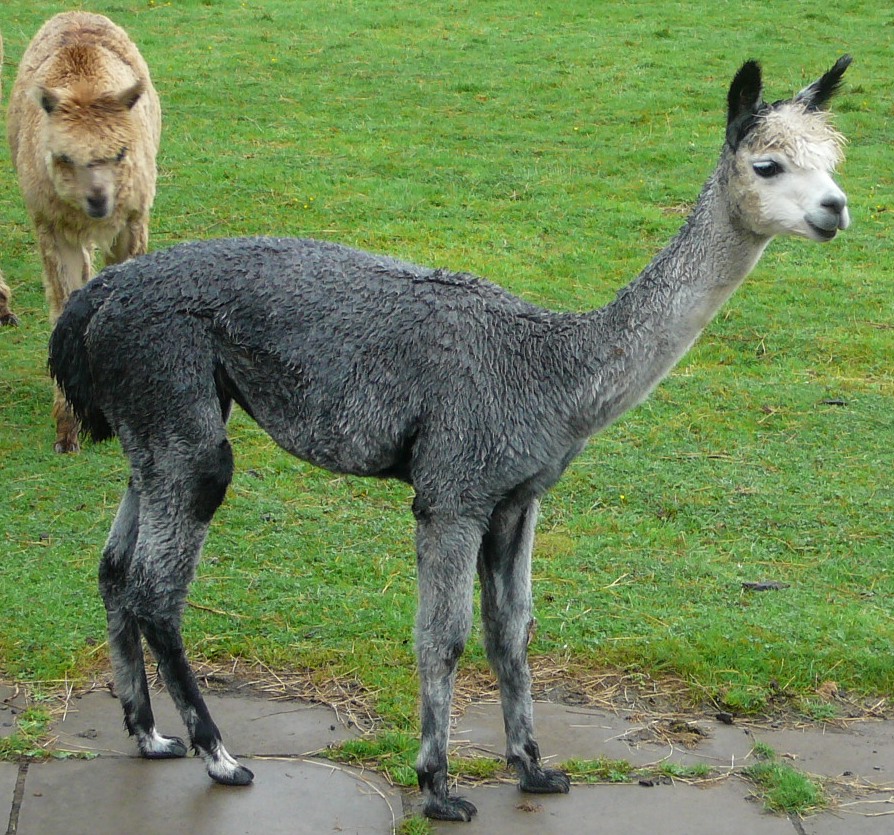 Claudia
We saw Claudia as a cria at Alborada when we took our first 2 alpacas there to be mated in 2008 and fell in love with her. Although she's rather older now she still looks just as gorgeous and is very photogenic. She has a beautiful grey fleece which is very even in colour and very fine.
She has quite a shy character when she arrived,  but she's much more confident now as even newer and younger alpacas have joined the herd. She'll feed from our hand, adores grapes and is fine walking in her halter, behaving impecably on her one trip to the show ring, when she won first prize at the Royal Show in 2009. Her fleece has also done well in 2009 and 2010 at the Scottish Fleece show and at the Heart of England Show.
She was mated with Bozedown's 'The Chief' in 2009  and produced a superb grey boy we've called Darius who became one of our stud males, although we no longer use him. In 2010 we mated her with our own grey stud and The Chief's son, Comanche, and she produced a black boy, Euclid. The next year we mated her with Alpaca Stud's superb grey Nyetimber and she produced a gorgeous bay black girl with a white face, Fantasia in 2012. As Fantasia was born quite late in the season last year we let Claudia have a rest. Sadly she produced twins one year which did not survive and in 2018 her cria was born dead. Fingers crossed for this year
Treacle
Treacle was born in September 2005, the product of the Garyeannna herd and produced her first cria with us in 2010 – a little dark brown boy, Damoclese, born on August 15. in 2011 she produced another black, but a female, Electra who did well in shows. We didn't mate her the following year so that we could bring the mating time forward to the spring . Subrsequently she's produced two superb grey cria, Gregorius, who has won many prizes and is our main grey stud and Hirse who has been sold. Last year she produced Karsten who did win one rosette but we sold him as a pet to someone who lives nearby to keep naother pet male company.
She has won several prizes inlcuding 2nd prize in the junior black female in 2006 at both the South of England and the East of England shows and in 2010 her fleece came 2nd in the adult black class for the Heart of England show.
She was a little shy and unused to being handled when we first got her but has gained confidence with the herd. She does tend to be easier to handle after she has had her cria and will take food from our hands provided there are no stronger members of the herd around. She's an excellent mother and was very protective of her cria. She also tends to be the herd watch out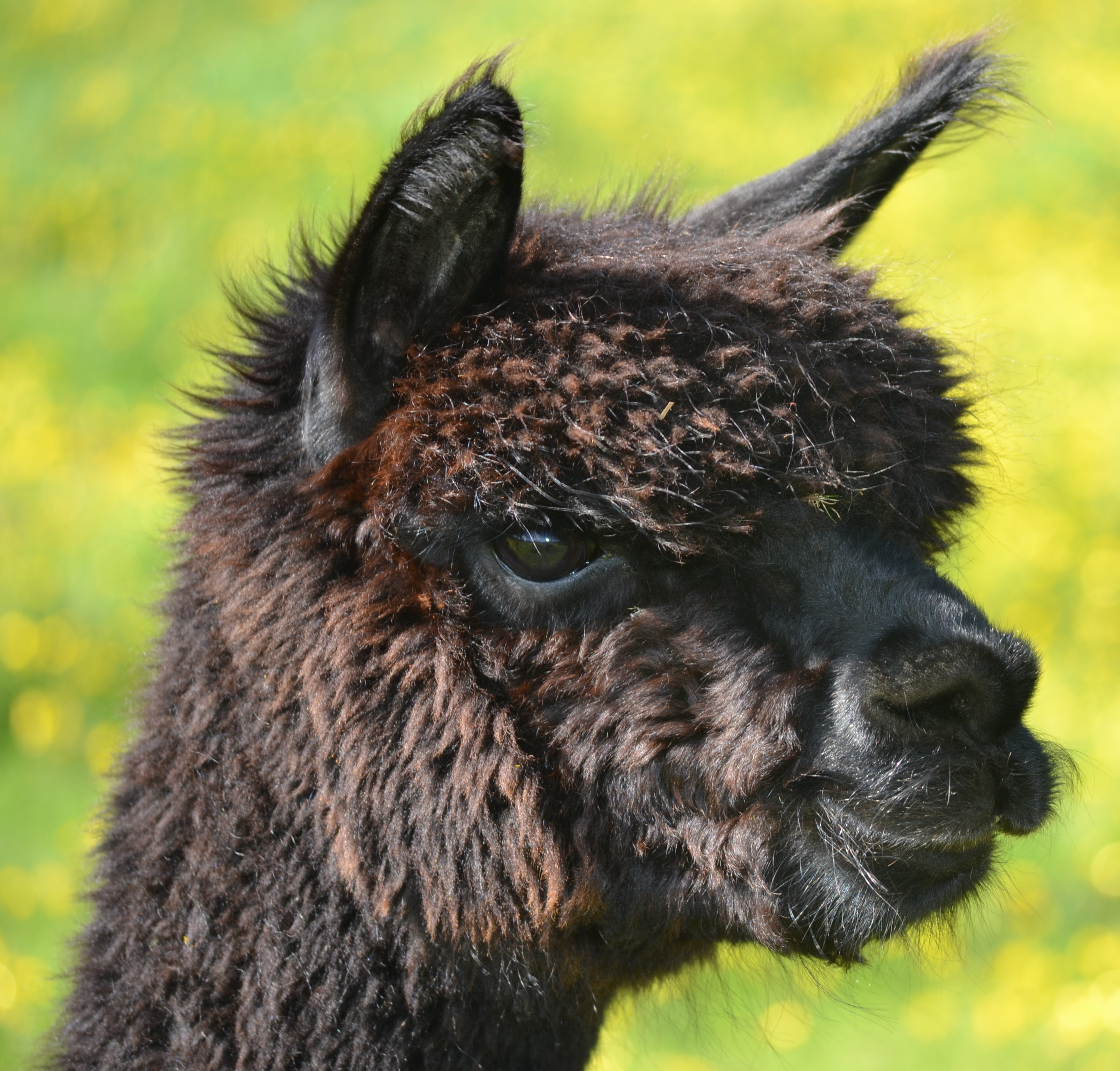 Designer Girl
Desi, (as she is known) is one of three animals we bought from Anzac Alpacas when they were closing down. She is the daughter of Viracocha Prophecy and Viracocha Witchcraft and was born in 2010.
She placed well in a number of shows including third in the 2011 National Show, repeating that result in 2012 at  the Futurity and at Heart of England Fiesta.
A quiet girl, easy to handle and a little self effacing she has given us a beautiful cria in Guinevere who followed in her mother's footsteps, being placed 2nd in the Spring Alpaca Fiesta and 3rd in the National Show in 2015. She developed a tooth problem, since resolved so we didn't mate her for a couple of years but last year she produced a lovely black male, Lukas from Herts Alpacas 'Nigel'. This year she is due to produce our first cria (although alpacas are notoriously fickle in their pregnancy periods!) from our own stud Lucien.
Elouisa
Elouisa was the second of our 2011 females, born on 5 July and was named after a friend's new baby girl who was born shortly before her. Her mother is our Royal Show prize winning brown, Brunhilda and her father is Purston Peruvian Kim. She has turned out a very unusual dark rose grey, with a very pretty white face, neck and feet. She's very confident, feeds from our hand quite happily and enjoys walking on the halter. She's always been one of the easiest animals to handle, although one of our largest. We were going to show her earlier in 2011, but she caught a bramble in her fleece and looked rather dishevelled. However we did show her at The East of England Show later in the year where she won her class. We showed her at the Heart of England and the National Shows in 2012 where she came 2nd and 3rd respectively.
She has produced Ismene, a lovely black girl Ismene who we have since sold and another black male, Laertes will be shown in 2019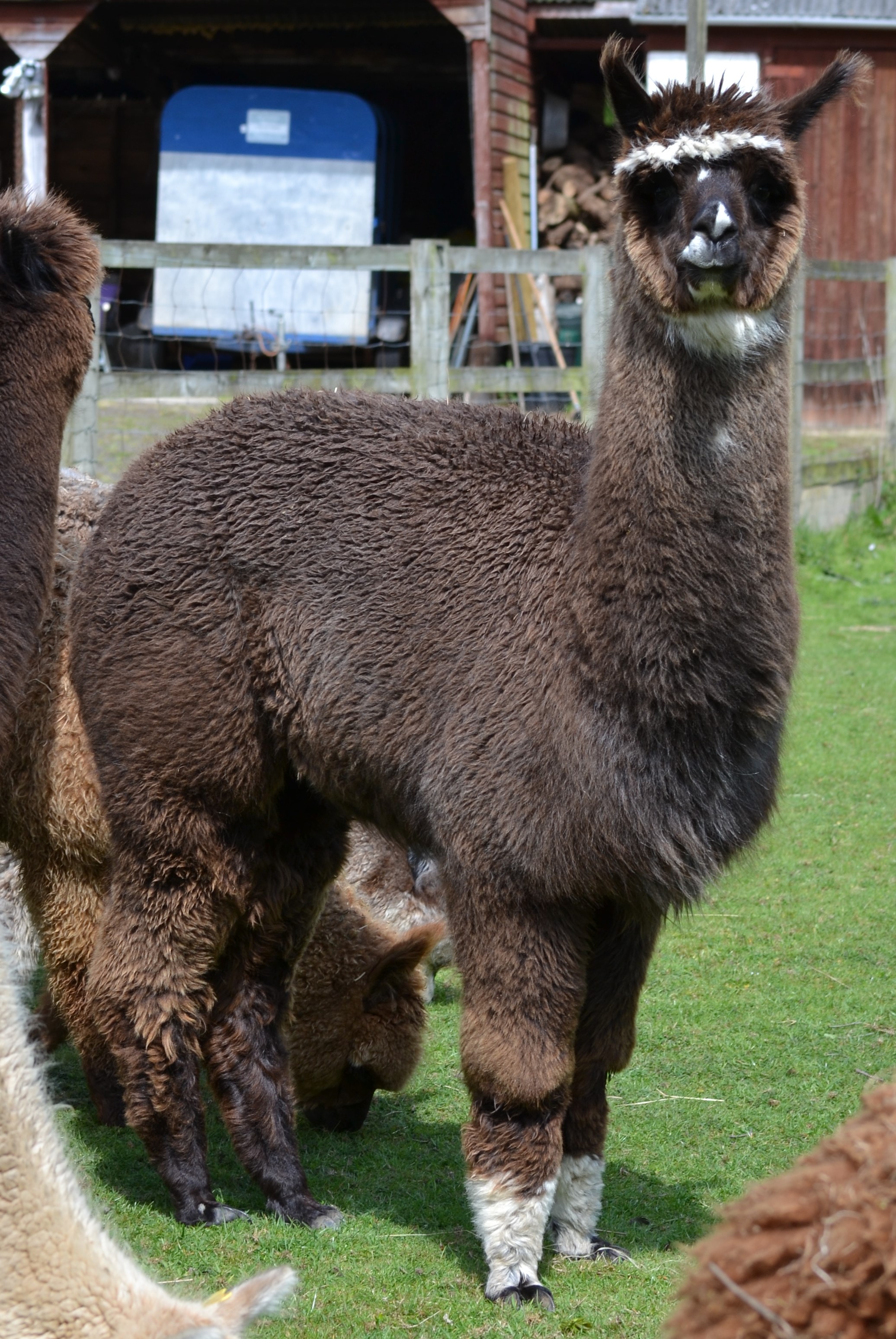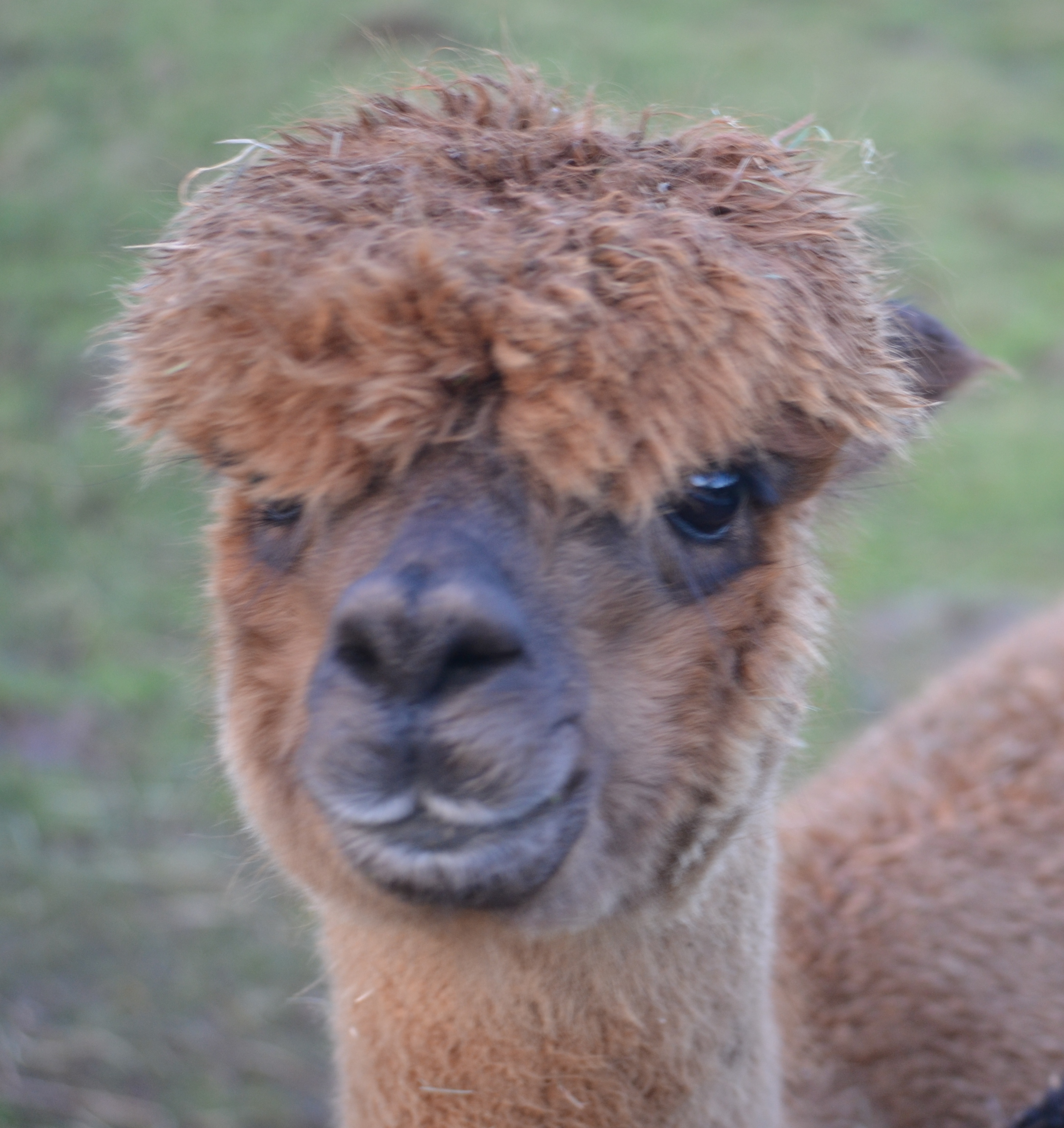 Fleur
Little Fleur is the daughter of our oldest alpaca, Camilla. We took a bit of a gamble and mated black Camilla with our champion white stud, Jay and in June 2012 out popped a lovely toffee coloured girl who seems to have inherited her Dad's excellent fleece quality and her mother's laid back character. She has turned out a little sweetie and has picked up a string of rosettes at shows as a junior, intermediate and adult inlcuding first at the Heart of England Spring Alpaca Fiesta and their fleece show. Her first fleece was very fine – 17 micron but she has density as well. She also has superb conformation with a lovely head.
She has produced a number of lovely cria in a variety of colours inlcuding light brown, fawn and black, all of which have done well at shows and we will be enterring this year's cria as well.
Genie
Houghton Hall Miss Congeniality, to give her her full title (Genie for short) is an absolutely gorgeous light brown girl who was born in 2013 and came to us in 2014 from Houghton Hall. To prove her quality she gained reserve champion at the Heart of England halter show in 2015 and Champion in the Heart of England fleece show the same year. This is not surprising as she has a very fine dense well organised fleece and excellent substance of bone.
The daughter of Neptune of Houghton and Fleur de Lys Mystique, she clearly considers herself to be special, although she is very gentle and good natured. She is very friendly and loves to come up to talk to us, particularly if we bring presnets of carror sticks! Something of a gourmet she is a very selective eater in that it has to be food, the type isn't that important….
Her very first cria has produced some controversy as he won several prizes as a modern grey and has inherited her superb fleece. Last year's was a brown from our own apaloosa, Luna and he has a really superb fleece. We are keeping our fingers crossed for the National Show.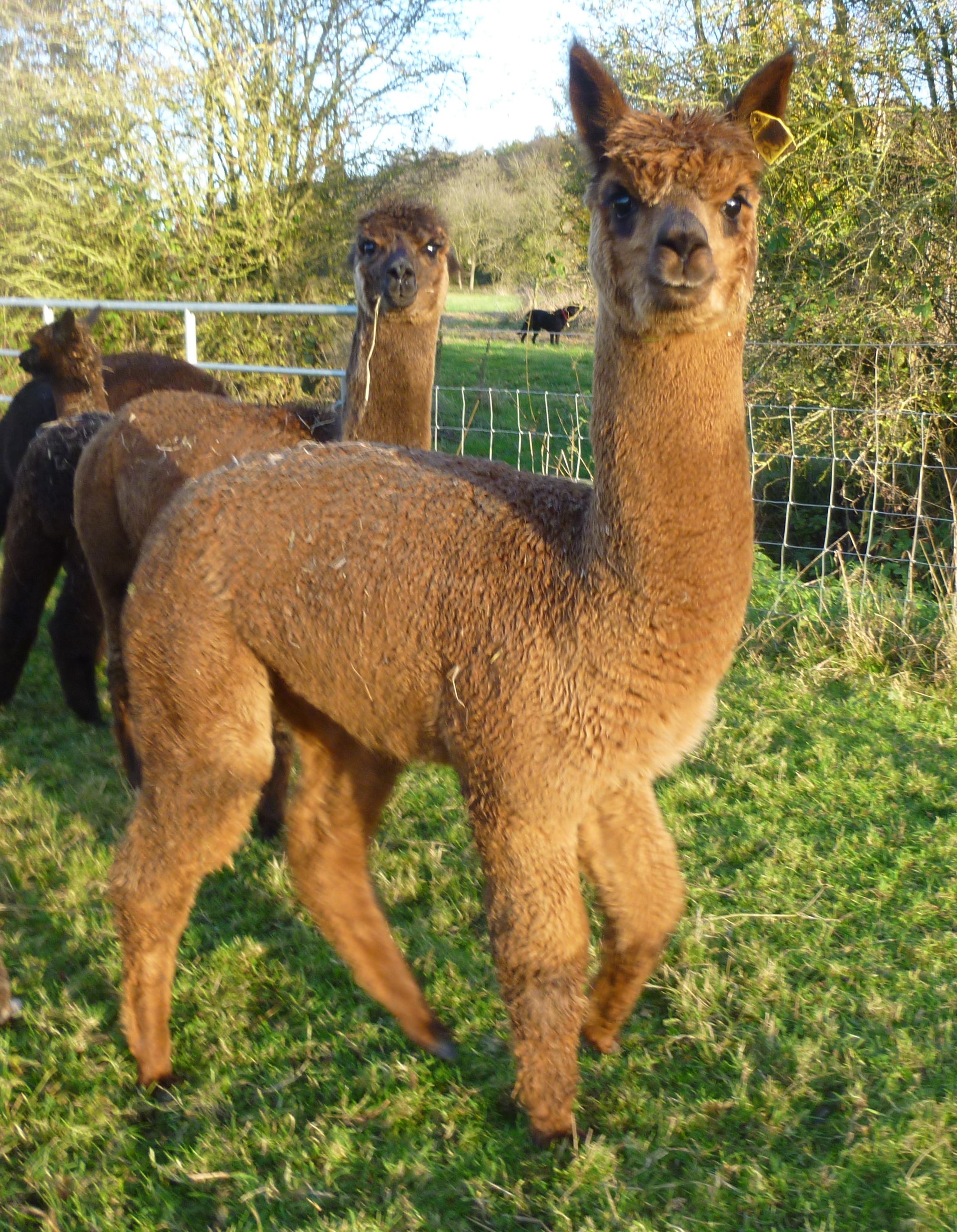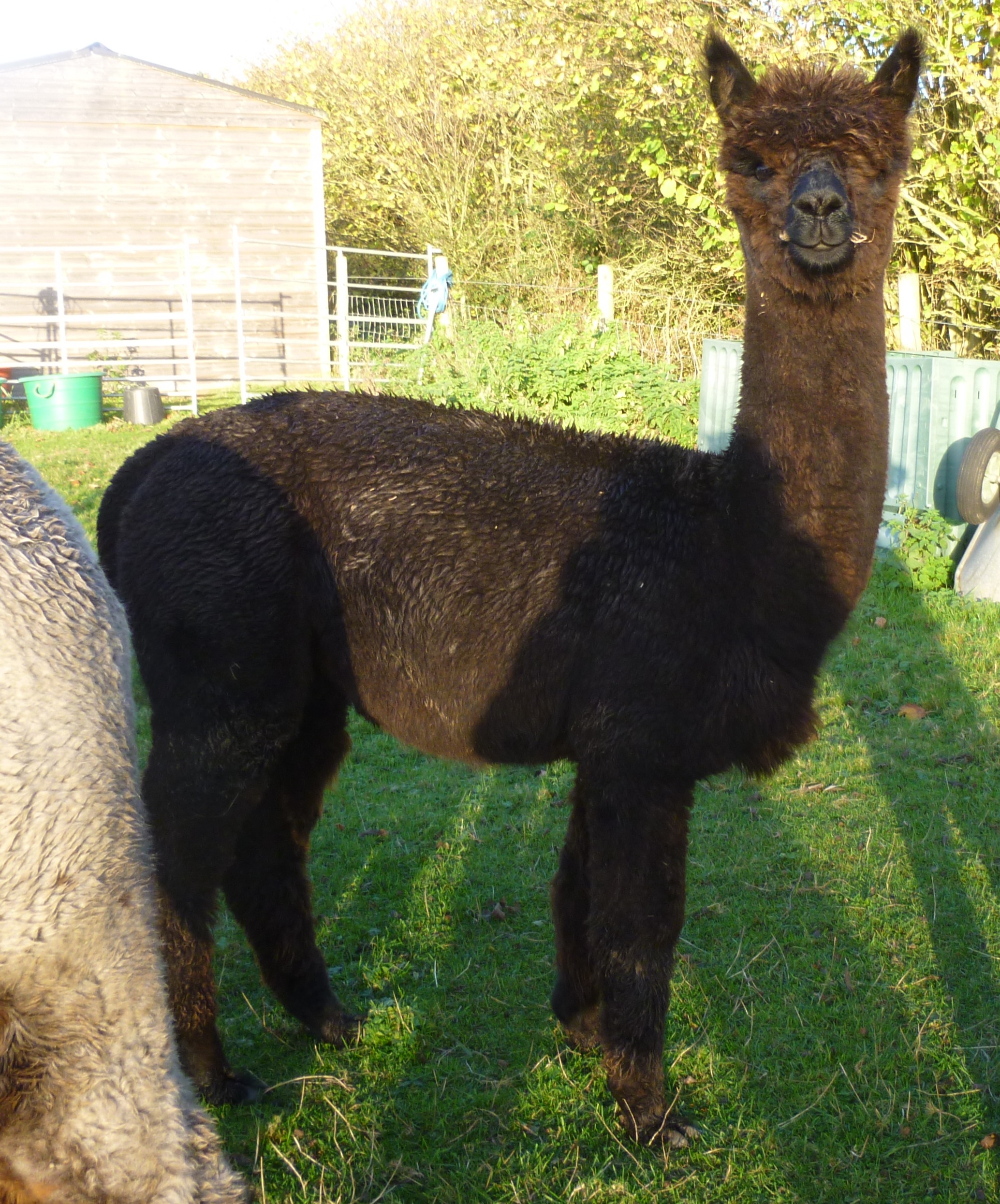 Guinevere
Guinevere, seen above with a very fetching snow hat, was born in 2013 to Anzac Designer Girl and Anzac Czar. A very sweet dark brown girl, she was born a little too late to be shown in 2014, but has been shown in 2015 when she did very well, gaining 2nd at the Heart of England show and 3rd in the National show.
While not one of our more determined alapacas at feeding time she contrives to be near the front of the queue when food is around. Not exactly a waif, she has what the judges call good substance of bone, but what we tend to refer to as being a solid citizen…..
We have decided to leave her to be mated in 2016 as we would like to show her next year as well – and are rather spoilt for choice when it come to high quality dark alpacas!
Hera
Hear was born in June 2014 to Bonita and and the superb stud previously owned by Anzac Alpacas – Wyona Sunset Boulevard. She is a slightly shy girl who quite likes her own company. (Probably teenage rebellion, her mum is very assertive!)
A light fawn, she has a beautiful fine dense fleece and we were hoping for great things in the 2015 show circuit as she also has excellent conformation and a really beautiful head but nature intervened and she got fly strike in November 2014 and had to be shorn just before the cold weather set in. We kept a coat on her over the winter but she struggled a bit with the cold and it has been difficult to keep her in top condition so her fleece hasn't grown as well as we would like.
She's done well in shows, although due to the fly strike we could not show her as a junior and once she was mated we did not show her. Her first cria was a beautiful grey male, Leonidas, from our own black stud, Agenda, which shows she is carrying grey genetics from her sire, Sunset Boulevard and we have mated her to a black again.
Clara
We saw Clara at the 2017 National Show and fell in love with her immediately. We asked her owner, Roger Mount of Snowshill Alpacas, if she was for sale and he agreed to sell her, although he had turned down offers for her from other people. I'm not surpised they loved her, with her cute brown nose and a fabulous 13 micron fleece. She came to us mated to one of Roger's superb brown stud males and produced a beautiful little girl the perfect image of herself, who we named Lyra
She has come first in every show she has been shown in but with her fine, dense and highly organised fleece that is not surprising. Her sire is Snowshill Remus. She is a little bit shy but that may just be that she's the youngest in the herd. She is certainly very easy to lead and a lovely character.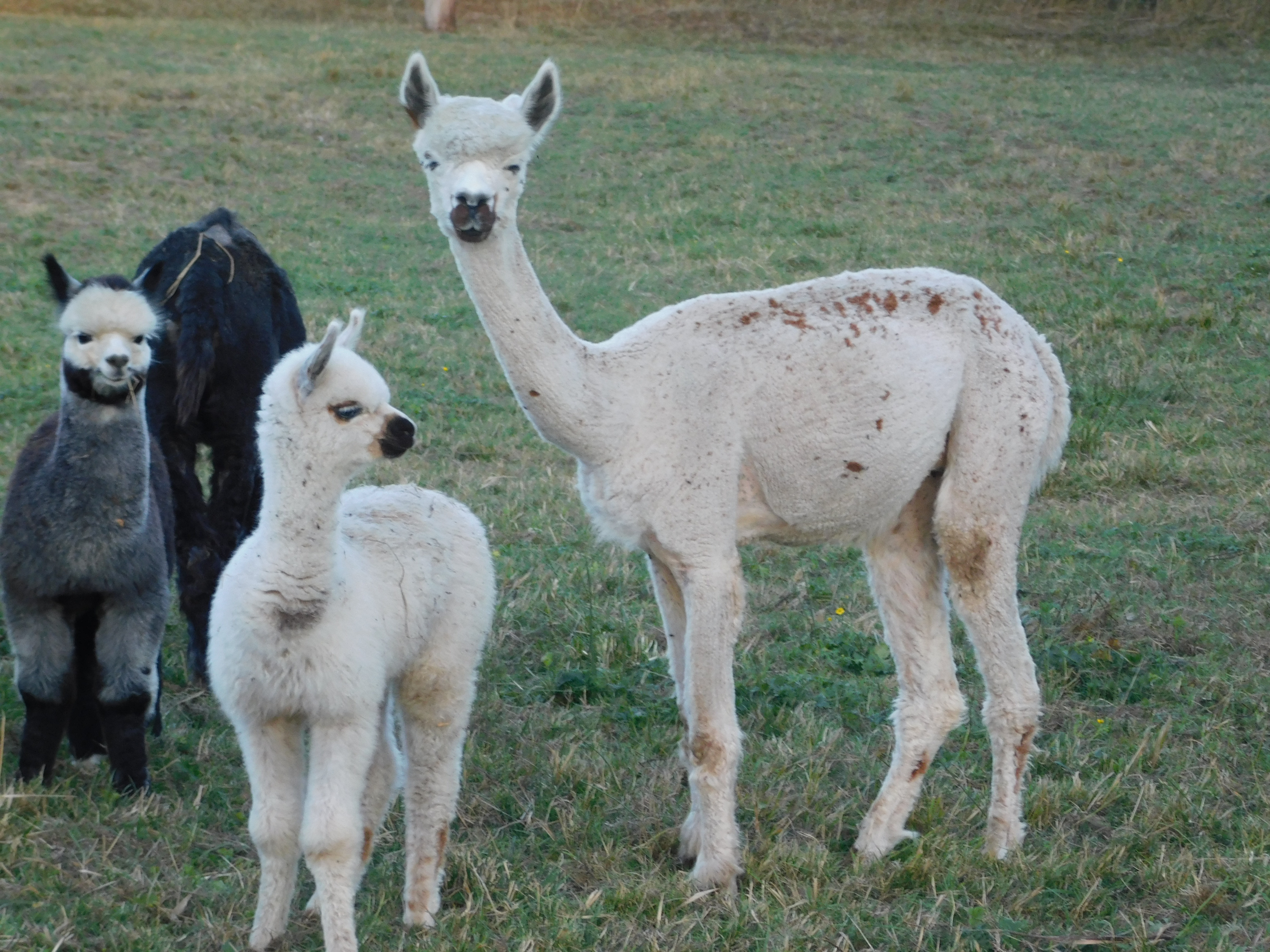 Lyra
Lyra is the daughter of Clara and Roger Mounts high quality stud, Orlando. She is the spitting image of her mother with a cute brown nose that looks as if she's been drinking a cup of hot chocolate and little brown feet that look like she's wearing boots! She has also inherited her mother's beautiful fleece with a first fleece of 14 micron so we have high hopes for her in this year's shows. She also has her mother's calm nature and is very confident and well grown for her age.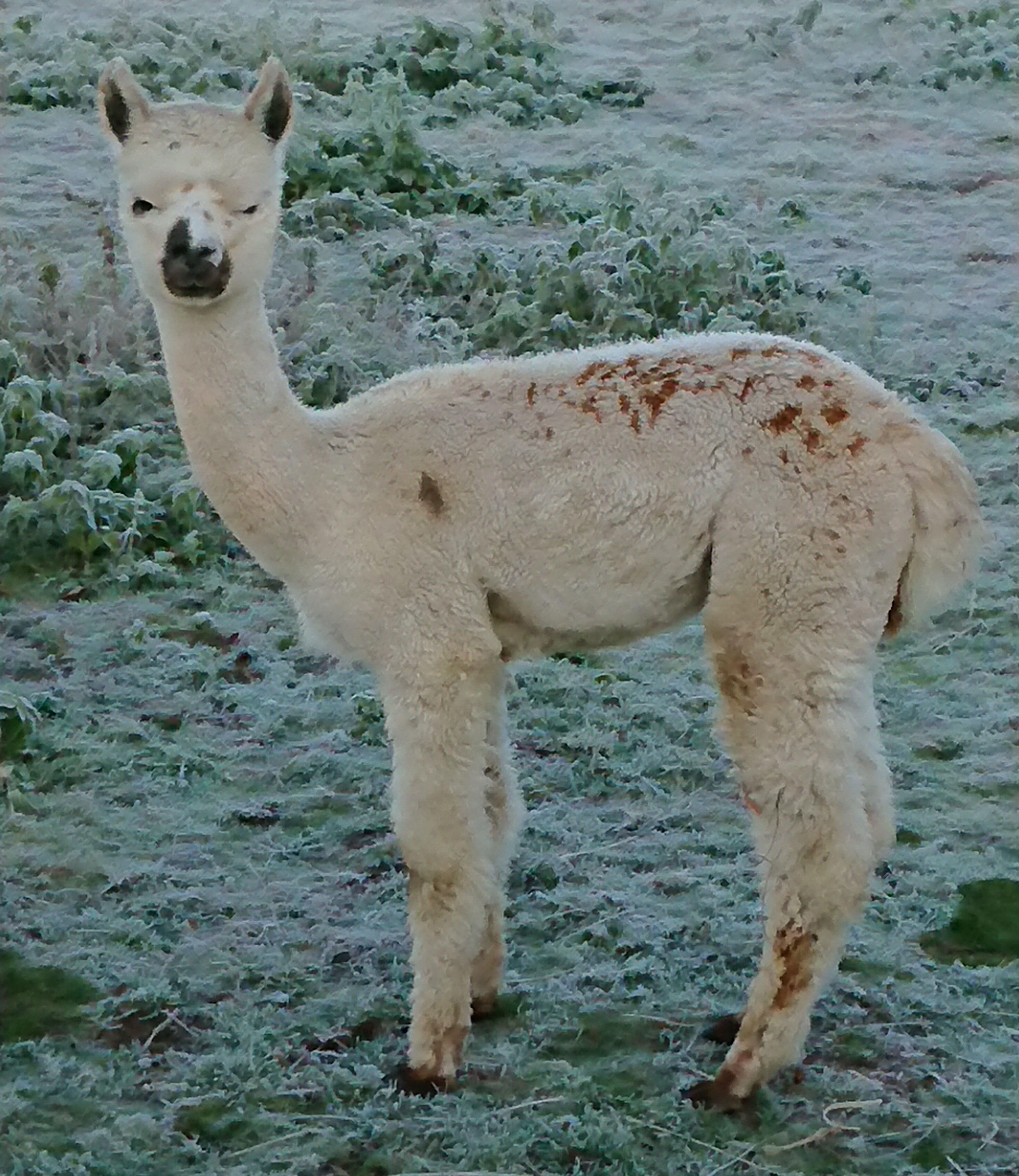 Leonora
Leonora is a lovely fawn female, the daughter of our own Rushmere Fleur and Rushmere Gregorius. Although fawn she has clearly inherited her father's grey characteristics with a couple of darker spots and one lighter spot so she may produce a grey if mated with a solid dark colour. Her fleece is fine and dense and she is very well grown and confident – to be honest she rules the roost with the weanlings!